Big Five Picks for NFL Week 6 (2021)
Well, Week 5 went well! 11-5 overall and 4-1 for the Big Five Picks! For the season, I am 43-37 against the spread and the Big Five Picks are 14-11. That is considered profitable! I knew mixing up our picks with a combination of home and road teams as well as favors and underdogs would be the recipe to success. We will do the same for Week 6!
Here is a table displaying the model's Week 6 predictions.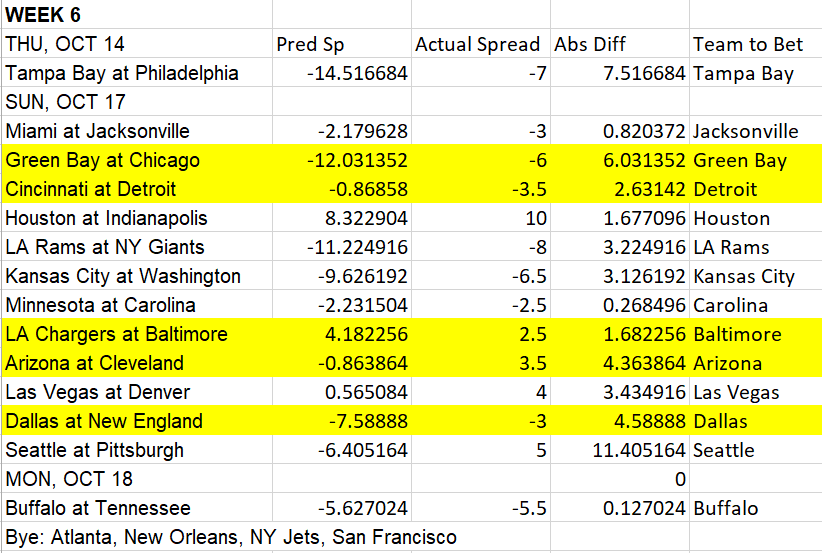 Interesting that there is a high delta between published point spread and predicted point spread for Las Vegas and Seattle. Clearly the public has reacted strongly against both teams. Unless you have been living under a rock, the Raiders are in a media tailspin right now thanks to Jon Gruden being a racist, misogynist, and homophobe. If he sent such hate messages via text to close friends when he was a teenager, perhaps that can be forgivable but for a man to do that in his mid-40s using a professional email address is just beyond words. I hope Gruden never gets an NFL job. The Raiders now begin the process of moving on with a new coach but the foul stench Gruden left will linger for quite some time. The model likes Las Vegas and the public likes Denver. I can see the Broncos blowing out the Raiders but this might be a stay away game, especially between bitter division rivals. As for Seattle, Russell Wilson will be out for quite some time. While Geno Smith is plenty capable of driving the bus, trying to stay competitive on the road on Sunday Night Football against a team that finally got things right last week is just too risky.
Instead, we will focus on teams that keep proving the oddsmakers wrong and that the mode likes. Without further ado, here are the Big Five Picks for Week 6.
Green Bay -6
Chicago got lucky last week. Yes, they won on the road against a team with a winning record but they did so against the Raiders who are reeling right now. All the Packers have done since Week 2 is win. As long as Mason Crosby's poor kicking performance last week was an aberration, all should be fine for Green Bay to win by a couple of TDs in the Windy City. The Bears are a solid team with a 3-2 record but they lost by 20 points when facing playoff quality teams such as the LA Rams and the Cleveland Browns. The Packers offense is humming and they should have no problem burying the Bears at Soldier Field. A 31-17 victory for Green Bay sounds about right.
Detroit +3.5
I feel bad for the Lions. I really do. They are playing very competitive football and just have had so much bad luck this season. Two of their games they lost by 2 points. Maybe that bad luck continues when they host the Bengals but a close loss still works in our favor. Clearly they are not getting any respect by being a home dog to a team that is nothing special. While Cincinnati is 3-2, I highly doubt they contend for a playoff spot 2 months from now. There has to be some regression to the mean which indicates that the Bengals fall to 0.500 and the Lions earn their first win. I would often joke that the NFL is so popular that even a Bengals - Lions game can garner attention. For gamblers and fantasy football aficionados, I am not wrong! This game should be fun and come down to the wire. I will predict a 25-24 win for the Bengals and sadly the Lions misery will continue but at least we will make money by taking 3.5 points for the home dog.
Baltimore -2.5
This game should be fun. The Chargers offense looks great and the Ravens have had a penchant for amazingly close games all season so far. Both teams are 4-1 and this could be a potential playoff match. The model likes Baltimore and something tells me that they might lean on running the ball more in this affair. One area where the Chargers struggle is the run game and Baltimore has a run first mentality. Of course Baltimore had to ditch the run game quickly last week on Monday Night Football but with Lamar Jackson and Latavius Murray toting the rock, the game plan will be to control the tempo on the ground. Ravens' head coach John Harbaugh is a smart guy so he will use the blueprint the Cowboys used to beat LA and what Cleveland almost accomplished before they let the game turn into a shootout. Even if it is a shootout, my money is on Lamar Jackson to come out on top. With the Chiefs struggling, maybe Jackson will finally get his chance to win the AFC (even though I think Josh Allen has a better chance of doing that). I like the Ravens to win 27-23 with a last minute TD in regulation.
Arizona +3.5
Can someone please explain to me how a 5-0 team is an underdog by more than 3 points? Is it because Arizona has historically been a bad team? All the Cardinals did this week was improve its roster by trading for Zach Ertz. Now this team does not have any weaknesses. Kyler Murray is playing like the league MVP and he will keep leading this team to another victory. If this game becomes a shootout, good luck in stopping Murray and all of the weapons he has at his disposal. If Cleveland slows it down, Arizona can still beat you with an outstanding rushing attack and a sound defense. By the way, Browns RB Nick Chubb is out so I am still perplexed how the Browns are favored. I am sure the Cardinals have a chip on their shoulder that they are not getting enough respect from the public but the model respects them. Arizona edges out the Browns 25-24. I would also consider a money line bet on Arizona. How often do you get such outstanding value for an undefeated team?!
Dallas -3
Lastly, we will go with the Cowboys. Not just the Cowboys win games but they cover. In fact, Dallas is 5-0 against the spread this season. The public is still not giving the Cowboys enough respect. I would argue that the Patriots are just as bad as the Bears and the Giants yet they are underdogs at home by at least a TD. I would also argue that Dallas is just as strong as Green Bay and the LA Rams, the Bears and Giants opponents this week. Maybe the public still thinks the NFC East is inferior. While that division may still reek of mediocrity, it's still much improved and the Cowboys are on track to win the division with 20+ wins against the Eagles and Giants. New England has put up a fight in most of their games but they have a talent deficiency. We are only giving up 3 points and Dallas has the weapons to win this game quite convincingly. A 28-21 win for Dallas in Foxboro seems reasonable.
Again, not too much chalk and a nice blend of home/road teams and favors/dogs. Try parlaying the first three picks during the early part of the day and then press your winnings on an Arizona-Dallas parlay in the afternoon. If you put $100 on a three team parlay consisting of Green Bay, Detroit, and Baltimore and it hits, you win $582. Then place $400 of those winnings on a two team parlay with Arizona moneyline and Dallas -3. That should yield about $1400 profit. Overall that's nearly 2000% return! I smell a 5-0 week!