Big Five Picks for NFL Week 16 (2021)
We are back to our 4-1 ways! Woohoo! Here is a rundown of how the Big Five Picks have fared during this season.
Week 1: 2-3
Week 2: 4-1
Week 3: 2-3
Week 4: 2-3
Week 5: 4-1
Week 6: 4-1
Week 7: 3-2
Week 8: 4-0-1
Week 9: 3-2
Week 10: 4-1
Week 11: 2-3
Week 12: 2-3
Week 13: 4-1
Week 14: 1-4
Week 15: 4-1
That's right! Seven weeks with 4 correct picks! Overall the Big Five Picks are 45-29-1. That would have me ranked 71st in the Super Contest hosted by Westgate Sportsbook in Las Vegas if I had submitted an entry this year. I believe that would have me in the money since there are 1913 entries. I am 5 games behind the leader so I highly doubt I can hypothetically earn 1st place in the Super Contest since that 1-4 performance during Week 14 still stings. However, I am very pleased with the model and I feel the model will finish strong for the 2021 season.
Here is a table displaying my model's output.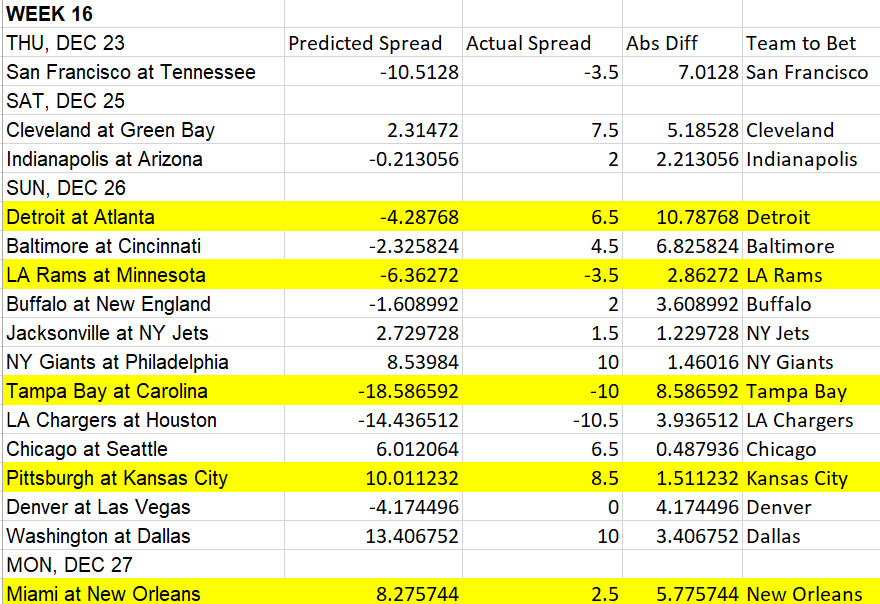 We don't see have too many major deltas between the published point spread and the predicted point differential (7 points or more) but if we closely examine some of the games and the directions these teams are headed, I think we can still find terrific value. Without further ado, here are the Big Five Picks for Week 16.
Detroit +6.5
Yes, I might regret taking the Lions. After all, they are 2-11-1 and just a downright awful team. But you know who else is awful? That's right, the Falcons. Since the Lions bye week after Halloween weekend, the Lions are 2-3-1 with two of those three losses being very close games (13-10 to Cleveland 16-15 to Chicago). Meanwhile, the Falcons have struggled in their last 6 games going 2-4 and losing each of those 4 games by double digits. Football Outsiders doesn't think much of Atlanta giving them an overall DVOA of -37.1% which is dead last among all NFL teams. Detroit's DVOA is not great but not nearly as bad as the Falcons. How on earth the Falcons are favored by nearly a TD?! That is insanity! The betting public sees the 6-8 record for Atlanta and the 2-11-1 record for Detroit. They also remember when Atlanta used to be a playoff contender and that Detroit is a perennial cellar dweller. However, the betting public lacks critical thinking. The Lions are actually a better team and I like the money line play of +235. Lions win this game 24-21.
LA Rams -3.5
The Rams are on a roll. Of course it has been quite the roller coaster ride for LA. They started 7-1, then lost 3 in a row with two embarrassing losses on national TV to the Titans and 49ers. Now the Rams are riding a 3 game winning streak and asserting themselves as the team to beat in the NFC West with a convincing win in Arizona two weeks ago. As for the Vikings, they are the epitome of mediocrity. 7-7 record. 13th overall DVOA. 14th Offensive DVOA. 16th Defensive DVOA. Sure, the Vikings are a good bet to make the playoffs but like most Vikings playoff teams since the vaunted Purple People Eaters from the 60s and 70s, the Vikings seem destined for a first round exit. The Rams are a serious Super Bowl contender and with Vikings RB Dalvin Cook set to miss this game due to testing positive for COVID, the Rams should have an easy time dictating the tempo. Expect Aaron Donald to make his presence felt in the Vikings backfield and for Cooper Kupp to maintain his torrid pace towards one of the greatest seasons ever for a WR. The Vikings will keep pace but the Rams' uber talented stars will just be too overwhelming. Rams cover the spread with a 28-21 victory at Minnesota.
Tampa Bay -10
Last week was shocking for the Bucs. 9-0 shutout at home and on national TV. However, don't hit the panic button yet. All teams have had struggles this year. It's awfully hard to be perfect in the NFL. Ask the 1972 Dolphins, the only undefeated team in NFL history. Tom Brady came awfully close to a perfect season in 2007 only to be denied by the NY Giants in the last game of that season. As great as Brady is, he is human. Last year, the Bucs were dominated by Tyreek Hill during a Week 12 loss to Kansas City. In fact, the Bucs had lost 3 of 4 games at that time, including another humiliating loss to New Orleans in Week 9 (38-3 at home). How did the Bucs respond? By winning 8 games in a row, including 4 games in the postseason and avenging their loss to New Orleans by beating them 30-20 on the road in the divisional round. The cherry on top was a rematch with the Chiefs in the Super Bowl and beating the living crap out of them 31-9. The last time Brady was shutout was in 2006. The Patriots had lost 21-0 to Miami and then beat Houston 40-7 the following week. The point I am trying to make is that Brady is not one to experience a downward spiral. He usually bounces back in a big way after a tough loss. He did after the Bucs lost to Washington 29-19 during Week 10. Brady will do it again this Sunday. The Bucs win big in Carolina. A dominating 34-14 win sounds about right.
Kansas City -8.5
Like the Rams, the Chiefs have had quite the roller coaster experience. After a 3-4 start and doubts swirling about the Chiefs' AFC dominance, now they are on the upswing with a 7 game winning streak and a home game against a soft opponent like Pittsburgh. These Steelers are not your grandfather's Steelers, your father's Steelers, or the Steelers I remember from the Bill Cowher days of the 90s and the first few years of the Big Ben era. The Steelers struggle to score and they have major issues with man coverage. That's good news for Tyreek Hill and Travis Kelce. As long as the dynamic duo of Hill and Kelce clears the NFL's COVID protocols by tomorrow, they should feast on the Steelers non-existent man defense. The spread has already moved 1.5 points in favor of Kansas City after they opened as a 7 point favorite. That tells me that Hill and Kelce will most likely be active for this Sunday. Kansas City has covered the spread in its last 5 games (each time as the favor). Make it 6 in a row once they are done with Pittsburgh. Mahomes will lead Kansas City to a 30-20 win at Arrowhead.
New Orleans -2.5
The Saints are an enigma. They have looked great with dominant wins against Green Bay, New England, and Tampa Bay (twice). Other times the Saints have looked like bottom feeders with a 5 game losing streak from Weeks 9 - 13. In fact, the Saints lost by double digits during Weeks 11 - 13. Something tells me that the Saints have finally found their identity in the post Drew Brees era. The defense is back and Taysom Hill is doing a superb job of managing the game. It's OK if he doesn't surpass 200 passing yards. Just don't turn over the ball and lean on the running game. Of course it helps to have Alvin Kamara back who is arguably the most versatile offensive weapon in the NFL. He is an excellent ball carrier and is a force to be reckoned with when he lines up as a receiver. The Dolphins come to town and they are hot, riding a 6 game winning streak. But is that streak really all that impressive? Five of those six wins were against inferior teams: Houston, Carolina, NY Giants, and NY Jets (twice). The win against Baltimore on Thursday Night Football was impressive but if we throw out the Ravens, the combined record of the Dolphins' opponents during their winning streak is just 15-41. I would say that Miami just got lucky with playing so many weak teams in a short time framee. They will struggle in the Big Easy on national TV. On the other hand, the Saints thrive on primetime, especially when playing in the Superdome. Saints finish off a great week for us with a 26-18 as they march towards the postseason.
Definitely a good deal of chalk here but, like the stock market, you want to invest in blue chip teams. The Chiefs and Rams could very well see each other in the Super Bowl. The Bucs could repeat as champions. Even the Saints can make some noise. Even though Detroit has been eliminated from the playoffs for quite some time, the Falcons are a joke and should not be favored against anyone. I suggest parlaying the first three games (moneyline Detroit) and then press your winnings on Kansas City. Then press your winnings again on New Orleans. With a $100 bet on a 3 team parlay consisting of the Lions (moneyline), Rams, and Bucs, you can win $1,131. If you press your winnings on Kansas City and then on New Orleans, you can finish with $4,121 in profit. That is what I call a very nice return on investment if you just start with $100!
Merry Christmas everyone and let's chase that money before the end of 2021!