2019 NFL Wild Card Playoff Predictions
Interestingly, at this time last year, I had been dormant with my NFL posts for a few weeks just as I have been now. The holiday season for most of us as well as the end of the fall semester for an educator like me can be very, very busy. Also, a 3 year old toddler and a 2 month old baby can be very time consuming! My last post for the 2019 season was Week 13 and our record was a pathetic 28-36-1 or 43.8%. From Weeks 14 - 17, our Big Five Picks went 13-5-2 or 70%. That pulled our overall record to 41-41-3 or 50%. Still not profitable but more respectable than the prior 13 weeks. If you don't believe me, check out the link below.
https://fantasysupercontest.com/team/21887/ai-sports-1
Also, here is a snapshot of all our picks for the 2019 season.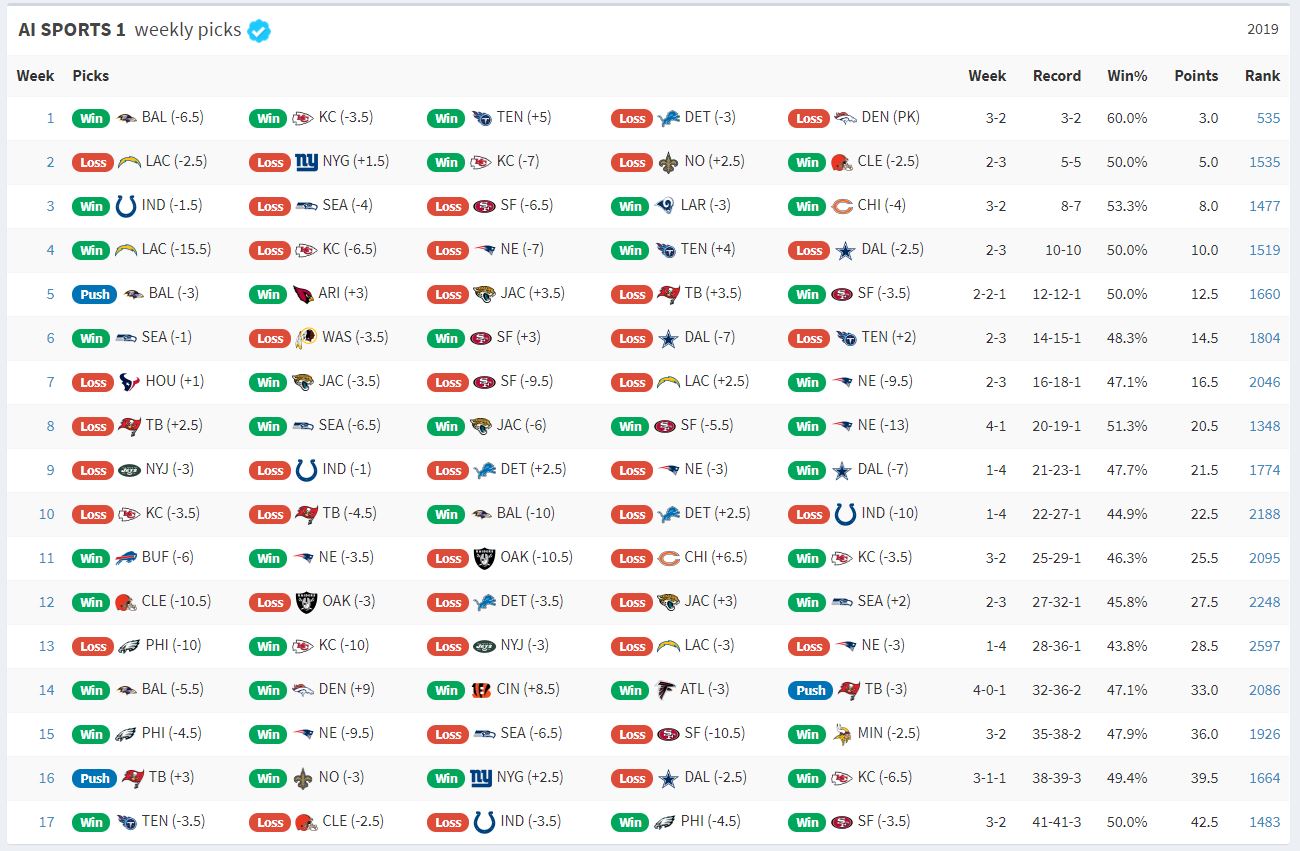 Perhaps not blogging about our picks enabled us to make better picks? Or perhaps more in-season data available to us allowed our models to become more reliable? For someone who is very data driven, I believe it is the latter!
So, where do we go from here? January is a great time for football fans. We have 12 great teams that will go at it for a trip to South Beach to hopefully become the 54th team to hoist the Lombardi Trophy. Before we discuss in a later article our entire playoff predictions, let's start with the Wild Card Round. Here are the schedule of games for this action packed weekend with points spreads and totals.
Buffalo Bills at Houston Texans
Saturday, January 4 1:35 PM PT on ESPN/ABC
HOU -2.5, O/U 43.5
Tennessee Titans at New England Patriots
Saturday, January 4 5:15 PM PT on CBS
NE -5, O/U 45
Minnesota Vikings at New Orleans Saints
Sunday, January 5 10:05 AM PT on FOX
NO -8, O/U 49.5
Seattle Seahawks at Philadelphia Eagles
Sunday, January 5 1:40 PM PT on NBC
SEA -1.5, O/U 45
Here are the scores our model spit out.
Buffalo 24
Houston 21
Tennessee 20
New England 28
Minnesota 23
New Orleans 28
Seattle 24
Philadelphia 27
As you can see, we are bound for some close and somewhat high scoring games for the opening round of the 2019 NFL Playoffs. Before we end this post, we need some perspective to make sense of these predictions. Here we go!
Buffalo Bills at Houston Texans. It's never comforable to select a road team to win a playoff game but we can't ignore our model here. The Bills have proven to be a very capable playoff contender under head coach Sean McDermott. This is now their 2nd postseason trip in 3 years after a 17 year playoff drought. Josh Allen is the real deal and he has nice, young core of offensive players to help him advance the ball. On the defensive side of things, McDermott has placed his stamp on this team. He spent over a decade as defensive assistant with the Eagles helping them become a consistent Super Bowl contender during the Andy Reid years. He then did the same for the Carolina Panthers from 2011 - 2016 as their defensice coordinator culminating in a trip to Super Bowl 50. The Bills currently rank top 10 in most defensive categories so no surprise there. What about their road record? Is 6-2 OK for you? It sure if for me! While the Texans have talent and of course host a playoff game, we simply must go with the better team. The Bills are well rested having nothing to play for during Week 17 since they were already locked into the 5th seed and pretty much knew the Texans would be their opponent. The Bills could not get the job done 2 years ago when they travelled to Jacksonville for their wild card game (it was close though since they lost 10-3 in a defensive battle) but this is no longer virgin territory for Buffalo. They are ready to take that next step against an overrated Texans team. Prediction: Buffalo 24 - Houston 21.

New England has struggled lately. Since an impressive 8-0 start and having so-called NFL experts dub them as perhaps the greatest defense in NFL history, they have faltered to 2nd half record of 4-4 and looking quite mediocre. Perhaps playing good teams such as the Ravens, Texans, Chiefs, and Bills in November and December will do that. After all, the Patriots had an extremely soft schedule in September and October playing the NY Jets twice, the Dolphins (before they got their act together later in the season), Washington, and NY Giants. Need more proof that both halves of the NFL season were like a tale a of two cities for New England? Check out the numbers below.
Games 1 - 8
Combined record of opponents: 50-78
New England points scored: 250
New England points allowed: 61
Games 9 - 16
Combined record of opponents: 70-58
New England points scored: 170
New England points allowed: 164
Sadly (or maybe not sadly if you are like the rest of the country outside of Boston who is sick and tired of the Patriots dominance), the Patriots lost out on the first round bye for the first time in 9 years and most likely their streak of 8 straight trips to the AFC title game might get snapped.So why pick New England to beat Tennessee in their wild card match? Three reasons:
(1) It's New England. How do you bet against Bill Belichick and Tom Brady?
(2) It's in Foxborough. Again, how do you bet against arguably the best head coach/quarterback combon in NFL history, especially on their home turf in the winter.
(3) Ryan Tannenhill is starting at QB for Tennessee. While he has looked good this season, his career road record against New England is abysmal. Don't doubt the defensive scheme Belichick will dial up for this game, especially against a QB he has dominated many times in the past.
This might be Tom Brady's last playoff victory. Savor it Patriots fans because Kansas City will put an abrupt end to the Patiots 2019 season and most likely their 19 year championship dynasty. Brady will look great this weekend but retirement questions will circulate after the following weekend. Prediction: New England 28 - Tennessee 20.
This one is easy. While the model has the Saints winning by 5, the Saints are entering the postseason fully healthy and playing their best football all year. If not for a very competitive NFC playoff field, the Saints should have home field advantage but the playoff tiebreaker rules did not work in their favor. Meanwhile, the Vikings are limping into the playoffs. Here are ther factors that benefit the Saints:
The game is in New Orleans. Saints QB Drew Brees is very, very good at home.
The revenge factor against Minnesota. Remember the Minnesota Miracle 2 years ago when Stefon Diggs scored an amazing TD to seal the Saints fate? The Saints have not forgotten.
There is something else the Saints have not forgotten ... they were done wrong by the refs in the NFC title game last year against the Rams. That non-PI call has to be the most egregious officiating blunder in NFL history. The Saints are pissed and hungry. They have an outstanding chance of getting to Super Bowl LIV, even without a bye week.
When I run my models for daily fantasy, most of the top lineups include Brees, RB Alvin Kamara, WR Michael Thomas, and TE Jared Cook. No Vikings are selected. What does this tell us? That the Saints offensive players are primed to play great this weekend while the Vikings mediocrity will continue. Prediction: New Orleans 28 - Minnesota 23.
Lastly we get two NFC teams who seem to be in the playoffs every year. The Eagles are making their 3rd straight trip to the postseason and 13th trip since 2000. For Seattle, this is their 8th playoff berth in the last 10 years under head coach Pete Carroll and 13th trip since 2003. Much credit should go to having strong ownership, great coaching, and consistently superb QB play. Even though both Seattle and Philadelphia are not nearly as impressive as te 49ers, Packers, and Saints on paper, they still know how to win big games so expect both teams to bring their A game. Both teams are dealing with major injuries but Philadelphia has proven to still find ways to win (especially with QB Nick Foles two years ago). However, Seattle's run game is non-existent and the lack of RB depth prevented them from winning the NFC West. Now they find themselves travelling cross country and three time zones for their first playoff game. It's never easy for West Coast teams to win on the East Coast, especially in the winter. Also, don't count out the Eagles even though the NFC East was nowhere near as competitive as the NFC West. Keep in mind the Eagles won road games in Green Bay (34-27) and Buffalo (31-13). This team still has some of its championship swagger left while the Seahawks championship mojo from 2013 - 2014 has dissipated. Prediction: Philadelphia 27 - Seattle 24.
Given our track record the last 4 weeks, we firmly believe these picks will do 3-1 or 4-0. Enjoy the games and we will back next week for the divisional round.